Description
Golar is a Norwegian energy infrastructure group whose main assets are two Floating Liquefied Natural Gas (FLNG) facilities, called Hilli (in service) and Gimi (80% completed, to be commissioned in late 2023). Additionally, Golar owns two LNG midstream tankers and stakes in three listed LNG companies: New Fortress Energy (integrated LNG solutions), Cool Company (Shipping) and Avenir (LNG supply for small scale customers).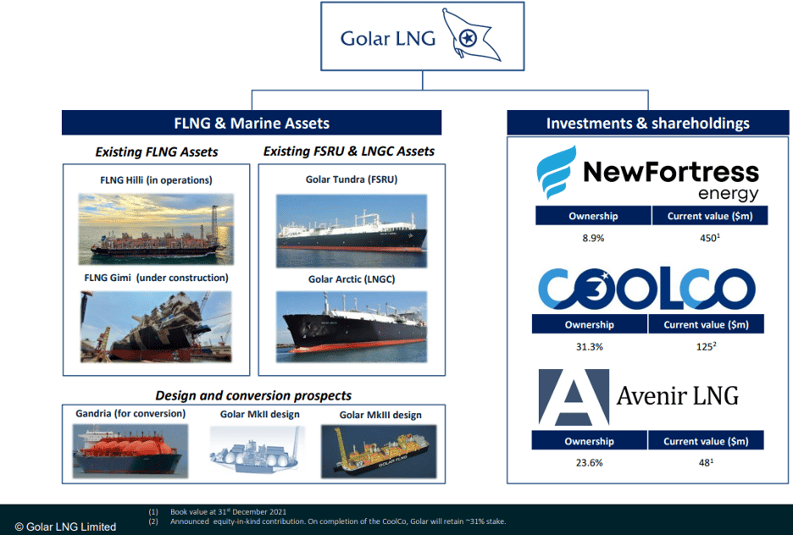 Source: Golar 2021 Q4 Investor Presentation

Why are the assets interesting?
Floating LNG (FLNG) vessels facilitate the offshore production, liquefaction, and storage of natural gas for transport to customers worldwide. Under normal conditions LNG is a relatively clean energy source and FLNG vessels produce zero hydrocarbon gas flaring. So FLNG vessels enable the world to transition towards a lower carbon footprint and allow energy producers to access remote gas reserves.
We believe this is attractive in a world that seeks to diversify its energy sources, lower its carbon emissions, and reduce its dependence on Russia. Moreover, FLNG vessels serve under steady long-term contracts and can be easily re-deployed to multiple offshore gas fields over their lifespan.
Golar's Hilli FLNG vessel was converted from an LNG carrier and began service in offshore Cameroon in 2017. The customer and project manager is a large Anglo-French energy group. Hilli has a liquefaction capacity of ~2.4mtpa (million tons per annum) and currently 1.4mtpa (c. 58%) is utilized. The customer has the option to increase output to 1.6mtpa by late 2022, which represents upside to $99M in adjusted EBITDA it generated in 2021. According to its recent investor presentation, Golar management expects Hilli to generate up to $260m in adjusted EBITDA in 2024 (at current market conditions).
Golar's Gimi FLNG vessel is undergoing conversion at Keppel shipyard in Singapore and is 80% technically complete. It is scheduled to enter its 20-year service contract for the UK's BP in the second half of 2023. When operational, Gimi expects to process 2.5mtpa of LNG off the shores of Mauritania and Senegal. Golar expects Gimi to generate ~$151m in adjusted EBITDA for Golar by 2024 (at current market conditions).
Management states that they are considering additional FLNG conversion opportunities and plan to announce a final investment decision to build a 3rd FLNG asset later this year.


Recent political developments could boost demand for Golar's assets
Europe gets ~25% of its energy from gas, and Russia supplies ~40% of that gas; in addition, 25% of Europe's oil supply is imported from Russia. Moreover, there are several individual European countries that have far higher reliance on Russia than these figures suggest. By some estimates, Russia sold approximately $100 billion of oil and gas to Europe in 2021. The war in Ukraine has catalyzed a change in thinking about these arrangements and some countries including Germany are explicitly re-evaluating their energy policies. (For more discussion, see: Nuclear, coal, LNG: 'no taboos' in Germany's energy about-face). In fact, Chancellor Olaf Scholz just announced the push to build two LNG terminals in Germany. Increasing European demand for non-Russian gas coupled with Asia's ongoing need for LNG could result in additional demand for Golar's assets.


Valuation
Golar shares have risen this year but do not appear to be richly valued in our opinion. Based on current market conditions, management is guiding to an annual adjusted EBITDA of ~$420m in 2024. Golar's recent share price of $18 equates to an enterprise value (EV) of ~$2.5B (market cap of $2.0B plus net debt of $0.5B (including marketable securities)). Hence, Golar is priced at ~5.9x 2024E EV/EBITDA. In addition, Golar's balance sheet appears to provide flexibility to pursue other LNG opportunities that may arise.
---
IMPORTANT DISCLOSURES
This post is for informational purposes only and should not be viewed as a recommendation to buy or sell any security or personalized investment advice. The information and statistics contained herein have been obtained from sources we believe to be reliable but cannot be guaranteed. Any projections, market outlooks, or estimates are forward-looking statements and are based upon certain assumptions. Other events that were not taken into account may occur and may significantly affect the returns or performance of these investments. Any projections, outlooks, or assumptions are subject to change without notice, and should not be construed to be indicative of the actual events which will occur. Past performance is not indicative of future results. There can be no guarantee that any strategy will be successful. All investing involves risk, including the potential loss of principal.
Visitors to the City Different Investments web and social media sites are asked to read these terms

.