Although we haven't seen it yet, Universal Pictures' star-studded film Oppenheimer hit theaters last weekend, and it looks compelling. Oppenheimer chronicles the life of J. Robert Oppenheimer, the theoretical physicist who spearheaded the Manhattan Project—here in New Mexico—and ushered in the atomic era. Suffice it to say this is a story of great interest to us at City Different Investments. Critics describe Oppenheimer as a gripping exploration of ethics and human choices, and one of director Christopher Nolan's finest works.
Source: https://www.oppenheimermovie.com/
Investing in the Nuclear Renaissance
Nearly eight decades after Oppenheimer's Trinity test, research has led us to appreciate the significant benefits of nuclear energy for clean, reliable power generation. As we discussed in this blog post last year, we believe nuclear power will play a critical and growing role in the world's energy mix. Recall that there is abundant uranium in the ground to generate nuclear power, and it is essentially carbon-free. It is also a highly efficient source of energy: one uranium fuel pellet (about the size of a sugar cube) is equivalent to a ton of coal or 150 gallons of oil. Finally, nuclear power is not weather dependent (like wind or solar) and can provide stable baseload energy throughout the year.
Introduction to Talen Energy
We have been digging around the uranium and alternative energy markets for the past couple of years, and we recently uncovered Talen Energy (TLNE, owned in our City Different Global Equity portfolios). Talen is an independent power (ie electricity) producer with operations in Texas and Pennsylvania. Talen's crown jewel is the Susquehanna nuclear facility in Pennsylvania. With a capacity of 2.5GW, Susquehanna is the sixth-largest nuclear power station in the United States, making Talen one of the country's largest producers of carbon-free electricity. Separately, Talen also owns gas powered assets and minor residual coal plants; Talen expects all coal assets to be converted this year or retired by 2025. In addition, Talen owns a large state-of-the-art data center asset called Cumulus that's powered by its own low cost, carbon free energy.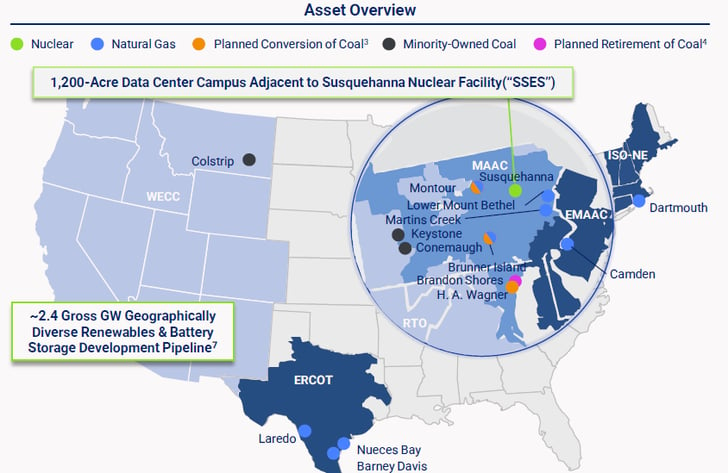 Source: Talen Investor Relations
History
Talen Energy was a publicly traded company until it was taken private in 2016 in a leveraged buyout with a large amount of debt. But because Talen sells power into the wholesale market, the price it receives is dependent on supply-demand conditions for power. Natural gas is used to provide marginal electricity production; hence the cost of natural gas influences wholesale electricity prices. So Talen struggled with its debt, and in 2022 a confluence of factors (including low gas prices, unfavorable hedges and high leverage) caused Talen to file for bankruptcy. This allowed Talen to clean up its balance sheet quickly and the company was publicly listed again in May of this year. During the bankruptcy process, Talen raised additional equity capital and eliminated about one-half of its debt.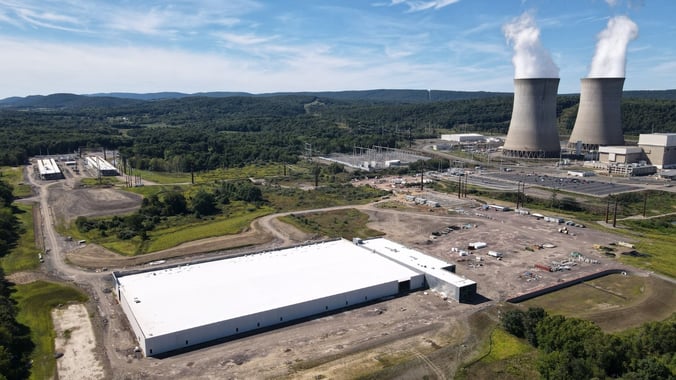 Cumulus data center campus alongside Talen's Susquehanna facility
Crown Jewel
Susquehanna is a dual unit nuclear facility with 2.5 GW capacity (90% owned by Talen) located in Salem Township, Pennsylvania. It is licensed to operate through 2042 (Unit 1) and 2044 (Unit 2) with potential for 20-year extension through 2062. It is the sixth largest nuclear facility in the U.S. and delivers better than top-quartile cost performance. Since 2016, it has reduced cost per MWh from $32 to $22 in 2022. Moreover, its nuclear fuel needs are fully contracted through 2025 with no Russian counterparty exposure.
As part of the Inflation Reduction Act, Congress passed the Nuclear Production Tax Credits (PTC) that will benefit nuclear power producers like Susquehanna. PTC will start in 2024. The rationale for this legislation is to ensure stability of nuclear assets on American soil by guaranteeing a floor price per MWh irrespective of the actual price of power. This bolsters the continuity of this carbon free power source and extends the life of existing nuclear assets. Essentially, PTC provides an inflation-adjusted subsidy to producers when the price per MWH falls below an established threshold and the subsidy maxes out at $15/MWh. The IRA baseline price is $25/MWh and Talen receives a floor price of $40/MWh, which guarantees Talen a comfortable profit. As a result of PTC, Talen estimates its floor pre-tax annual cash flow from Susquehanna to be $370-$415M depending on capacity.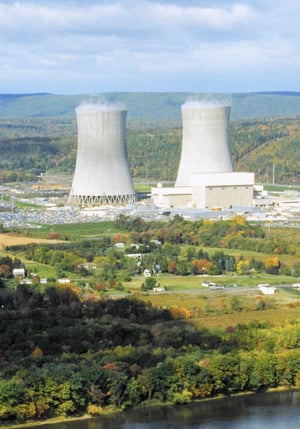 Susquehanna Nuclear Power Plant in Pennsylvania
Valuation and Catalysts
Talen management has provided estimates of financial performance for the coming years that suggest Talen shares are priced at a steep discount to similar companies. As a post-bankruptcy business, Talen shares currently trade over-the-counter with limited liquidity. But there are several potential events that could boost the valuation of Talen, including 1/ initiation of analyst coverage; 2/ initiation of a dividend; 3/ interest in the Susquehanna plant from a prospective buyer; and 4/ "uplisting" of Talen shares to a major stock exchange later this year. Finally, Talen is set to generate ~$800M in unlevered free cash flow this year that could be deployed for shareholder benefits. Management recently indicated to us that they are actively considering their options.
Conclusion
For more information please review the latest Talen investor presentation which contains a description and financial profile of Talen's assets. We are excited to support such an important, carbon-free power source that is a critical part of America's infrastructure.
We will be following Talen closely – and we'll see you at the movies!
---
IMPORTANT DISCLOSURES
This post is for informational purposes only and should not be viewed as a recommendation to buy or sell any security or personalized investment advice. The information and statistics contained herein have been obtained from sources we believe to be reliable but cannot be guaranteed. Any projections, market outlooks, or estimates are forward-looking statements and are based upon certain assumptions. Other events that were not taken into account may occur and may significantly affect the returns or performance of these investments. Any projections, outlooks, or assumptions are subject to change without notice, and should not be construed to be indicative of the actual events which will occur. Past performance is not indicative of future results. There can be no guarantee that any strategy will be successful. All investing involves risk, including the potential loss of principal. Due to various factors, including changing market conditions and/or applicable laws, the content may no longer be reflective of current opinions or positions. No discussion or information contained herein serves as the provision of, or as a substitute for, personalized investment advice. To the extent that a reader has any questions regarding the applicability above to his/her individual situation of any specific issue discussed, he/she is encouraged to consult with the professional advisor of his/her choosing. City Different Investments is neither a law firm nor a certified public accounting firm, and no portion of this content should be construed as legal, tax, or accounting advice.
Visitors to the City Different Investments web and social media sites are asked to read these terms

.